Pennsylvania PTA Advocacy Day 2012
On October 22, 2012 Pennsylvania PTA members and leaders gathered together to learn more about how to "Advocate the PTA Way" in Camp Hill, PA. Mollie Van Lieu, National PTA Advocacy Specialist and Ivelisse Castro, National PTA Service Representative spoke on how to advocate on local, state, and national levels. The session included examples on how PTA members can hold productive meetings with members of Congress. It also highlighted ways to influence policy at the state and federal level as well communicating local issues within their hometowns to legislators.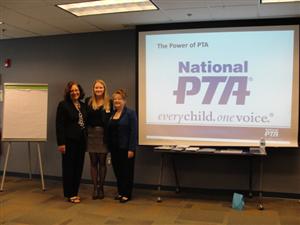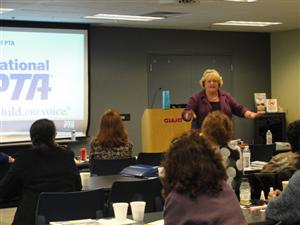 Sandy Zelno, School Reform Associate with the Education Law Center shared Pennsylvania's successful advocacy efforts. She expounded on current issues that are of a grave concern: School Funding formulas, state's portion of public school funding, no reimbursement for school transportation, special education funding, no mandate for Public School Libraries, voucher program (EITC), waivers for 'No Child Left Be-hind', financial distressed school districts, building partnerships between parents and public school librarians (media specialists).
Advocacy Day ended with a trip to the Capitol in Harrisburg where a panel convened to answer questions posed to it by Pennsylvania PTA state board of managers. The session ended with an open question and answer period. Panel members included:
Chris Wakeley, Executive Director of House Education Committee who works for Minority Chair of Committee, Representative Jim Roebuck;
Randy Albright, Executive Director, Pennsylvania Senate Democratic Appropriations Committee who works for Senator Vince Hughes; and
Angela Fitterer, Policy Advisor, House Democratic Policy Committee who works for Representative Mike Sturla.
They all conveyed that Education should be a top priority in the upcoming session. They encouraged parents to visit their legislators in their hometowns and discuss their local issues. They agreed that face-to-face meetings are always the best way to get your message across. Legislators do not necessarily expect you to know all the technical details about any given piece of legislation but do want to engage in conversations with their constituents.
Sign up for the PTA Takes Action Network at www.pta.org/takeaction and review the DVD viewed at the training session entitled "How to Lobby the PTA Way" by clicking on the Online Advocacy Toolkit